Zumba Fitness Edinburgh
Our classes have been running in Edinburgh since 2010, and we have grown into one big Zumba Fitness-loving family! We would love to welcome you to our friendly classes, where the emphasis is on fun - it really doesn't matter if you do the steps right or not! The class is full of energy and exciting music from all around the world, guaranteed to leave you feeling sweaty and elated. A Zumba Fitness class with Nadia burns an average of around 500-600kcals per hour! For the latest classes and more information please visit
zumbaedinburgh.net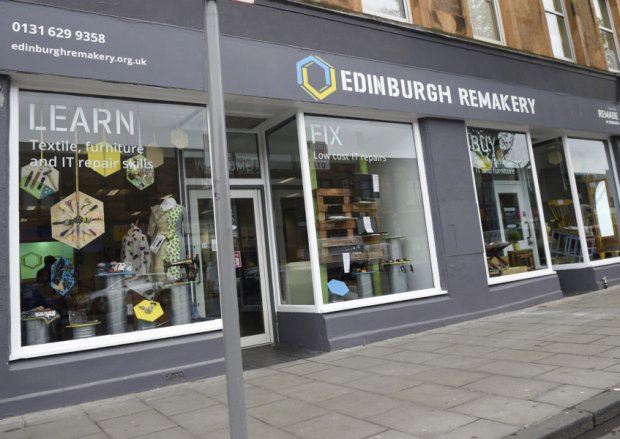 The Edinburgh Remakery
Location: 127 Leith Walk​, ​Edinburgh, EH68NP
Learn new skills in upholstery, computer hardware and software, leatherwork, woodwork and more.. Get to grips with hammers, rivets, and motherboards.
​We have courses for all levels and two dedicated workspaces - one for textiles and electronics, ​and one for woodwork. Transform old furniture, bags, clothes and give a new lease of life to computers that are clogging up cupboards.
Upcoming Workshops..
Tool Use and Workshop skills
Hooked Rag Rug Workshop
Upholstery
Pyrography
MS Windows Maintenance 101
edinburghremakery.org.uk
D'Arcy Thompson: Sketching the Universe
Saturday 14 January 2017
Venue: City Art Centre
An illustrated talk about D'Arcy Thompson's life and work by Matthew Jarron, Curator of Museum Services at the University of Dundee.
3pm. | Who is this for? - Adults | Cost: Free
Find out about D'Arcy's amazing career and the many influences his ideas have had.
Advance booking required. Please contact the City Art Centre reception either by dropping in during normal opening hours, or by telephoning 0131 529 3993.
Museum of Edinburgh
The Museum of Edinburgh is the City's treasure box. Historic rooms crammed full of iconic objects from the Capital's past. Find out about the history of Edinburgh from the earliest times to the present day. Discover more about the city, its people, crafts and trades and the beautiful objects they created.
Storyteller Phyllis Davison will perform songs in our galleries.
Sat 1 April 2017 at 2pm
Who is this for? - All. Cost: Free
She will take you on a journey from her childhood years through to her formative years through the medium of song. Performances are free and will take place in the galleries, booking is not necessary.
Huntly House 142 Canongate, Royal Mile EH8 8DD
Admission is free, but donations are welcome.
www.edinburghmuseums.org.uk
Scottish International Storytelling Festival
Fri 20 - Tue 31 October 2017
Twelve days of storytelling events in Edinburgh and beyond, three days of open table discussion around the themes of the Earth Charter. These are critical times for our planet and the SISF invites us all to connect through our differences, acknowledging where we are and where we want to go, together. If not now, when?
www.tracscotland.org
Scottish Storytelling Centre
43-45 High Street, Edinburgh
Box office: 0131 556 9579
Twitter @ScotStoryCentre