Edinburgh 2019
Edinburgh Fringe 2019
2 - 26 August 2019
edfringe.com - Check out What's On here!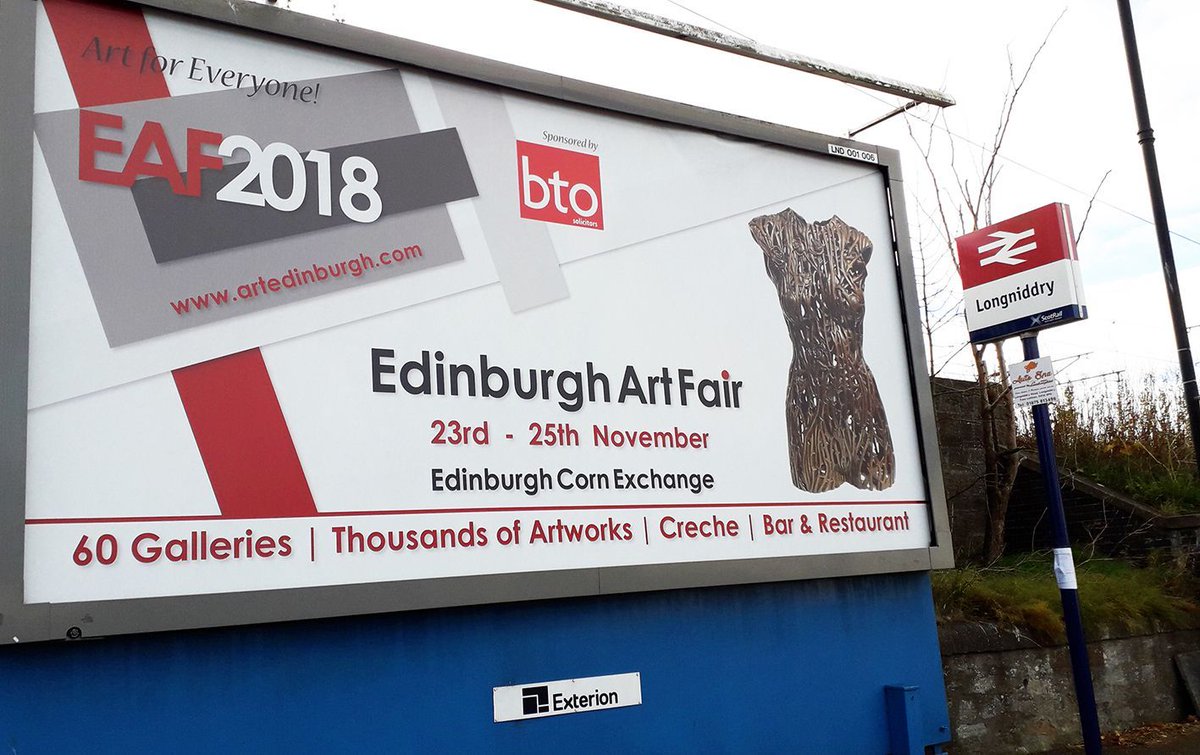 Edinburgh Art Fair
22 - 25 November 2019
Edinburgh Corn Exchange, New Market Road, EH14 1RJ
artedinburgh.com
Edinburgh Zoo
The Fruitmarket Gallery
Address: 45 Market Street, Edinburgh, EH1 1DF
Admission free. Open seven days, all year round.
fruitmarket.co.uk
i-On Magazine Edinburgh 2019
View the latest lifestyle magazine. In this last Edinburgh issue in its current format, we've packed a lot in to tide you over until we're back with our shiny, new magazine! issuu.com
MagicFest December 2019
Tenth Annual MagicFest Brings Extra Sparkle to Christmas and Hogmanay. The first details have been revealed for the 10th annual MagicFest Edinburgh's much-loved celebration of all things magical.
It will perform a special trick of its own vanishing from its old spot in the summer only to reappear, transformed, in the Festive Season at the end of December and early January.
The event, which will have lots to entertain adults and children, will add extra sparkle to Scotland's Christmas and Hogmanay with mind-blowing performances plus inspiring exhibitions and workshops.
The full programme will be unveiled in September and co-founders Kevin Quantum and Svetlana McMahon are preparing a line-up that will include of some of the best magicians and illusionists from the UK and around the world.
Parents will be delighted to know that a popular feature of the festival will be back - Magic School workshops. It's for children only, so families can take their young ones along to spend afternoons learning magic from professionals while they enjoy some post-Christmas time to themselves.

magicfest.co.uk
Edinburgh Museums & Galleries
"I am delighted to introduce our new What's On guide highlighting
exhibitions and events taking place across the museum and gallery
venues owned by the City of Edinburgh Council.
The Museum of Childhood on the Royal Mile will be closing
towards the end of October for around 5 months to allow for an
exciting redevelopment of the ground floor gallery, which will see a
new, multi-media display exploring 150 years of childhood.
We look forward to welcoming you"
- Councillor Donald Wilson | Convener of Culture & Communities
What's On Brochure - Our new What's On guide is now available.
Scottish Half Marathon 2019
Sunday 22nd September 2019
The route is seriously flat & rapid - if you want to set a personal best for a half marathon, then this is the event for you. Starting conveniently at 11am just outside Edinburgh, you will run along the magnificent East Lothian Golf Coast before finishing in the final furlong at Musselburgh Racecourse; Scotland's oldest racecourse.
scottishhalfmarathon.com
Corn Exchange Wedding Fair
Saturday 2 & Sunday 3 March 2019
Venue: Edinburgh Corn Exchange, EH14 1RJ
Advance tickets at edinburghweddingfair.com
Elk & Wolf
Come and explore the delights at our new shop today. We are open 11- 4pm, 'The Arches' located at East Market st past Waverly train station.
Edinburgh Corn Exchange
Big Big Christmas Parties
Our sellout Big Big Party Nights return, bigger and better than ever before. Join over 850 guests for Edinburgh's biggest and best festive party. edinburghcornexchange.com
Vintage Fair Edinburgh
Vintage Nation Leith - Fashion, Furniture & Food
28 September 2019
10:30am - 5:30pm
Shop our beautifully curated marketplace featuring:
– Amazing vintage fashion & accessories
– Gorgeous midcentury/vintage homewares and furniture
– Local artists and artisans
– Delicious local street food
Leith Theatre
28-30 Ferry Road
Edinburgh EH6 4AE
www.judysvintagefair.co.uk
Royal Highland Show 2019
20 - 23 June 2019
Get a copy of the printed show guide at the entrances and kiosks around the showground, for an easy-to-read list of all that is on, where and when. It also tells you something about the cast of thousands and includes a handy pull-out map, so you can find your way around this vast showground. The Royal Highland Show is one of Scotland's most iconic events, showcasing the very best of farming food and rural life. A great day out for everyone of all ages
Where? Royal Highland Centre, Ingliston, EH28 8NB
royalhighlandshow.org
Foodies Festival 2019
Inverleith Park, Arboretum Road, Edinburgh, EH3 5NZ
2, 3, 4 August 2019
Foodies Festival is delighted to announce the return of the UK's biggest celebration of food and drink in 2019. With the new and exciting Healthy Living focus of the festival, Grow Your Own, Creative Summer Workshops and Dessert & Cake Theatre, 2019 is set to be the best year yet! Tickets are on sale now and are available at foodiesfestival.com
The Virgin Money Street of Light
Until Christmas Eve, an architectural installation of 26 arches of 60,000 lights will run along the Royal Mile, from City Chambers to the Tron Kirk. Enter the stunning canopy of light, rising up to 19 metres high and listen to music sung and played by choirs from across Edinburgh synchronised to the lights. With music from the Edinburgh Festival Chorus, the Edinburgh Gay Men's Chorus, Edinburgh Royal Choral Union and the Edinburgh Police Choir. The free event lasts for 20 minutes
Reserve a ticket to ensure entry at (virginmoneystreetoflight.com)
Edinburgh International Festival
Visit Edinburgh
360 Degree Movies of Edinburgh
Panoramas of Edinburgh - Visit our page with interactive 360 degree street views taken in and around the city.

Amazing views from Calton Hill.

View East towards Waverley Bridge.