Shopping In Edinburgh
Shops In Edinburgh
Boutiques, department stores, unique small shops, fashion, souvenirs, Grassmarket, Royal Mile Shops, Markets, Gifts, Kilts, Tartan...

WHISKI Rooms
Address: 4, 6 & 7 North Bank Street, Edinburgh EH1 2LP
Bar & Bistro Tel: 0131-225-7224 - Whisky Shop Tel: 0131 225 1532
Walker Slater
Tweed specialist tailors of fine Ladies and Gentlemen's clothing.
Menswear - Grassmarket 16-20 Victoria Street, EH1 2HG
Ladieswear - Grassmarket, 46 Victoria Street EH1 2JP
walkerslater.com
JONES BOOTMAKER - 151-153 Lothian Road, Edinburgh EH3 9AA
Phone: 0131 629 2819
Jones Bootmaker - 32 George Street, Edinburgh EH2 2LE
Phone: 0131 629 2815

Ness - Big Ness
336-340 Lawnmarket, The Royal Mile
Ness - Little Ness
367 High Street, The Royal Mile
Harvey Nichols
St. Andrews Square, Edinburgh
Tel: 0131 524 8388
The first Scottish store opened in 2002. A 5 storey store located on St. Andrew Square, with far reaching views over the city of Edinburgh and the Firth of Forth. Including a Foodmarket, Beauty, Womenswear, Forth Floor Restaurant & Women's Accessories.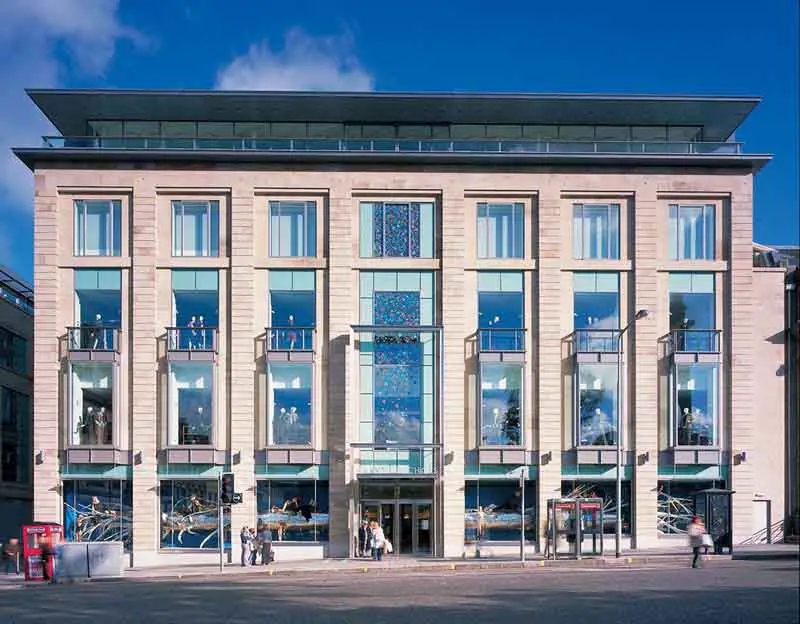 Jenners / House of Fraser
48 Princes Street, Edinburgh EH2 2YJ
houseoffraser.co.uk
Jenners of Edinburgh, the oldest independent department store in the UK, recently brought by House of Fraser. It has maintained its original position on Princes Street since 1838. Including over 100 different departments selling a large variety of goods. Larger Photo
Royal Mile Whiskies
379 High St, Edinburgh EH1 1PW
Tel: 0131 225 3383
royalmilewhiskies.com
Selling Whiskies from all over Scotland, and many gift ideas. Royal Mile Whiskies is located opposite St. Giles Cathedral, on Edinburgh's famous Royal Mile.
Jack Wills University Clothing
63-65 George St, Edinburgh EH2 2JL
Tel: 0131 225 2167
Fashion clothing store.
St James Shopping
Located in the heart of Edinburgh's city centre, offering shoppers a fabulous range of stores, from John Lewis and Next, to Republic, River Island and Wallis. Shoppers can relax and catch up with friends in Costa Coffee, or have a bite to eat in Food on 1 or The Place to Eat restaurant in John Lewis. stjamesshopping
Hawkin's Bazaar
16 St James Shopping Centre, Edinburgh, EH1 3SR
Hawkin's Bazaar offer a unique and extensive range, with hundreds of toys, games, gadgets, curiosities and puzzles for children and adults!
hawkin.com
Multrees Walk
The definition of luxury shopping in Edinburgh. Home of Scotland's only Harvey Nichols, Louis Vuitton, Marina Rinaldi, Anne Fontaine and many other exclusive fashion brands mean the Multrees Walk shopping experience is second to none.
With countless designer labels on offer, a trip to Harvey Nichols is a must for any visit to the city centre. You'll find the likes of Bottega Venetta, Jill Sander, Balenciaga, Gucci, Prada, Marc Jacobs, Chloe and a profusion of other luxury fashion brands.
Multrees Walk is also home to directional young fashion brands like Reiss, G-Star, Firetrap and Replay as well as established luxury labels like Armani and Mulberry catering for even the most demanding fashionistas.
For gifts and accessories - choose jewellery choose from Links of London, Azendi and Pandora. But if arm candy isn't what you're after you can always check out The Pen Shop, Oscar and Fitch or Bravissimo. If you're addicted to shoes you'll find plenty here too - Louboutin, Choos and Manolos in Daniel Footwear; along with plenty of lust-have styles in Kurt Geiger and for those with more casual tastes in footwear Sole is the choice for you.
Once the shopping's done you can unwind with a treatment in Sassoon Salon, then finish the day off with a Champagne cocktail in VinCaffè for the complete Multrees Walk experience. multreeswalk.co.uk

Louis Vuitton
St Andrew's Square, Mulltrees Walk, Edinburgh.
Leading the avant-garde of fashion without compromising traditional craftsmanship of luxury leather goods, ready-to-wear, shoes, watches and Jewellery.
Kinross Cashmere, Edinburgh
2 St. Giles Street, The Royal Mile, Edinburgh
Occupying four floors of a historic listed building dating back to the 1700's, this store is directly facing St. Giles Cathedral on the historic Royal Mile and a stones throw away form Edinburgh Castle.
67 George Street, Edinburgh
Situated on Edinburgh's fashionable George St, in a building designed in 1867 for the Crown Insurance Company, this shop enjoys an enviable location with neighbours such as Karen Millen, The White Co., and Hamilton and Inches Jewellers.
Debenhams, Edinburgh
109 Princes Street, Edinburgh EH2 3AA
Telephone 0844 5 616161
Debenhams Department Store. The popular retailer for clothing, electrical, and furniture.
Castle Antiques
330 Lawnmarket, Edinburgh EH1 2PH
Tel: 0131 2257615
Edinburgh Antiques. Located in the Lawnmarket area of Edinburgh.
Heritage of Scotland
Lawnmarket, Edinburgh
Heritage of Scotland is located just outside Edinburgh Castle on Lawnmarket. Selling wool kilts as well as thousands of scottish souvenirs.
heritageofscotland.com
Hamilton & Inches
87 George Street, Edinburgh, EH2 3EY
Telephone: 0131 225 4898
Hamilton & Inches is recognised as one of the UK's leading purveyors of jewellery, watches, silver and luxury goods. The Edinburgh flagship store is on George Street.

Florenza Flower Boutique
101 Hanover Street, Edinburgh, EH2 1DJ
Telephone: 0131 226 6160

Marks & Spencer Edinburgh
M&S, 54 Princes St, Edinburgh, EH2 2DQ
Telephone: 0131 225 2301

ANTA
Address: 73 Grassmarket, Edinburgh, EH1 2HJ
A family run Scottish design & architecture firm, founded in the early 1980's by Annie & Lachlan Stewart. All Anta products are made in Scotland, from the finest natural materials, with colours inspired by the Scottish landscape.
Dicover the Grassmarket area of Edinburgh!Nestled in the heart of Edinburgh's Old Town, the Grassmarket is the place to visit for exciting events and a breathtaking selection of shops, cafes, restaurants, pubs, contemporary designers, galleries, historic attractions and much more. Map

Kitchen Equipment Specialist Nisbets Opens Its Second Scottish Store.
Local foodies, amateur chefs and enthusiastic bakers in Scotland are now able to get their hands on all the latest kitchen gadgets and utensils, with the opening of a new professional equipment store in Edinburgh!
Nisbets celebrated the opening of its second Scottish store, situated in Edinburgh's West Port, with a launch event on Friday 8 July - ahead of the famous Edinburgh Festival Fringe in August, when the city will see an influx of visitors!
As the go-to supplier for professional chefs throughout the UK, Nisbets launched as a catalogue business back in 1983. Since then the company has grown at an astonishing rate, with customers now able to choose from over 20,000 products online. They can benefit from Next Day Delivery, and their Click & Collect service, and get products delivered direct to their local Nisbets store.
At the new premises, Edinburgh shoppers can choose from 3,000 best-selling products at the new branch. Customers have an opportunity to try products before buying, view product demonstrations and get advice from the knowledgeable team about which products are best for their business.
Allowing local "gastronauts" to kit out their kitchens with the latest equipment from top brands such as Waring, KitchenAid and Samsung, Nisbets is the one stop kitchen shop in Scotland for inspired amateur chefs and food lovers.
To discover more about Nisbets and the new Edinburgh store, please visit nisbets.co.uk
Edinburgh store details and opening hours:
Monday to Saturday: 9am – 5:30pm
Address: 102 West Port, Edinburgh, EH3 9DN
Primark Edinburgh
Princes Street, Edinburgh.