Usher Hall
Concerts & Events
Usher Hall, Lothian Road, Edinburgh
Box Office: 0131 228 1155
usherhall.co.uk
- listings and ticket booking information.
The Music Of Cream 50th Anniversary UK Tour
Saturday 5 October 2019
Assembly Rooms
Kofi Baker, Malcolm Bruce & Will Johns bring the legacy back to life, in an immersive multi-media experience show of electrifying live music, interplayed with archive footage of the original band, unseen interviews and personal anecdotes from the trio of growing up with the legends who were CREAM
Ginger Baker. Jack Bruce. Eric Clapton. Cream was a chemical explosion like no other, the blueprint for every supergroup to follow and the heavy blues precursor to Hendrix, Zeppelin and so much more. Fifty years since their earth-shaking debut album, the bloodlines of that hallowed trilogy come together to pay tribute to Cream's legendary four-album reign over the psychedelic frontier of the late 1960s. Kofi Baker (son of Ginger) and Malcolm Bruce (son of Jack) unite with Will Johns (Eric's nephew by Marriage and son of Zeppelin/ Stones/ Hendrix engineer Andy) to unleash the sound that roused a generation. Feel the fire and the freedom of "Spoonful", "Strange Brew", "Sunshine of Your Love", "White Room", "Crossroads" and "Badge" performed by the next generation of Cream, master musicians in their own right whose lives have been steeped in the Cream spirit and legacy.
The Music of Cream is a once-In-a-lifetime concert salute to the most innovative and explosive supergroup of all time, in the hands of those that knew them best. In a new multimedia experience, watch with awe as Kofi and Malcolm interplay live with their fathers on the big screen; as classic moments in rock history with Clapton are brought back to life by his nephew Will Johns. The band will share personal insights and stories, complete with rare, unseen family footage and photographs. This is a truly immersive experience for Cream lovers. Intimate & unique performed by close family members of the original band, who are born and bred into skilled musicianship.
Tickets
assemblyroomsedinburgh.co.uk
John Mayall's 85th Anniversary Tour
📅
Sunday 3 November 2019
The Queen's Hall
For over 50 years, John Mayall has served as a pioneer of blues music, rightly earning him the title, 'The Godfather of British Blues' an OBE & a Hall of Fame induction.
John's early band John Mayall and The Bluesbreakers counted amongst its members Eric Clapton, Peter Green, John McVie & Mick Fleetwood (Fleetwood Mac), Andy Fraser (Free) Mick Taylor (The Stones) Still a prolific writer and performer, he has recently released the album 'Nobody Told Me' that also features Todd Rundgren & Joe Bonamassa.
Born in 1933 near Manchester, England from an early age John was a fan of Jazz and Blues, passionate about the Boogie Woogie piano giants, learning to play the piano, guitar and harmonica in his teens whilst at Manchester Junior School of Art. Sometime after National Service in the South Of England & Korea, John Moved to London in the swinging 60's where he formed The Bluesbreakers and provided backing for some of the Blues Greats such as John Lee Hooker, T Bone Walker, Eddie Boyd and Sonny Boy Williamson on their first English club tours.
Eric Clapton joined John & The Bluesbreakers after quitting The Yardbirds and they created the classic album 'John Mayall's Bluesbreakers featuring Eric Clapton'. Due to his increasing popularity Stateside, John moved to Laurel Canyon, LA in the early 70's and enjoyed a revered music career throughout the decades that followed. John has also collaborated over the years with the likes of Billy Gibbons (ZZ Top) Steve Miller, Gary Moore, Jeff Healey, Mavis Staples, Greg Rzab (Black Crowes) and many respected Blues musicians.
John's current live band are: John Mayall, Greg Rzab, Jay Davenport & Texas blues guitarist Carolyn Wonderland.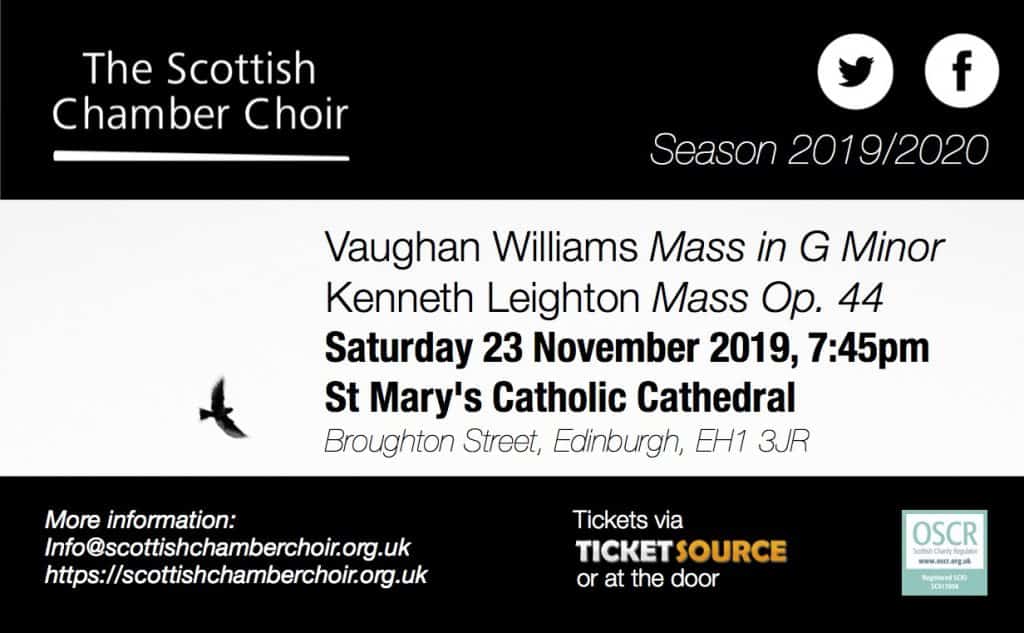 Masses For Double Choir
📅
Saturday 23 November 2019
St Mary's Catholic Cathedral
Ralph Vaughan Williams - Mass in G minor
Kenneth Leighton - Mass Op.44
And organ works by Vaughan Williams and Kenneth Leighton played by Simon Leach
Saturday 23 November 2019, 7:45pm
St Mary's Catholic Cathedral
Broughton Street, Edinburgh, EH1 3JR
Tickets £12 / £6 via https://www.ticketsource.co.uk/scottishchamberchoir
or on the door (doors open at 7:15pm)
Music is a means of stretching out to the ultimate realities through the medium of beauty.
Vaughan Williams
The Scottish Chamber Choir, directed by Iain McLarty, opens its 2019/2020 Season with a concert of luminous music from two great British composers: Ralph Vaughan Williams and Kenneth Leighton.
Written for double choir, Vaughan Williams Mass in G minor (1921) and Leighton's Mass Op 44 (1964) combine the lyricism of early English music with 20th century chromaticism and rhythmic intensity. The result is a timeless, reflective choral idiom, creating a sense of human fragility and of searching for consolation in a troubled world.
Organ preludes on hymn tunes by the two composers, played by Simon Leach, organist of St Mary's Catholic Cathedral, are interspersed between the movements of the choral works.
More information:
scottishchamberchoir.org.uk
info@scottishchamberchoir.org.uk
Follow us on Facebook: Scottish Chamber Choir
Follow us on Twitter: @ScotChambChoir