Usher Hall
Concerts & Events
Usher Hall, Lothian Road, Edinburgh
Box Office: 0131 228 1155
usherhall.co.uk
- listings and ticket booking information.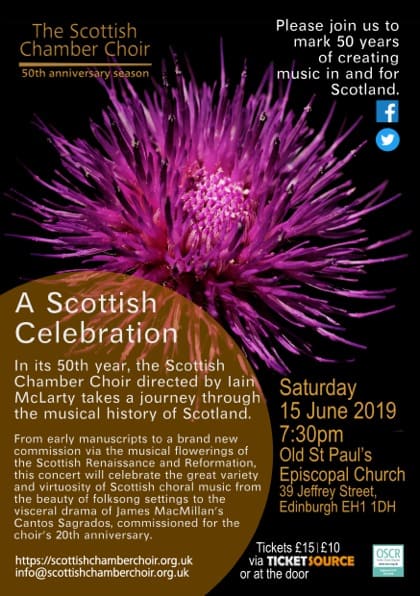 A Scottish Celebration
📅
Saturday 15 June 2019
Old St Paul's
The Scottish Chamber Choir presents for its 50th anniversary season:
A Scottish Celebration
A journey through the musical history of Scotland
Directed by Iain McLarty
Robert Carver Rory Boyle James MacMillan Andrew Carvel
Saturday 15 June 2019 - 7.30pm
Old St Paul's
39 Jeffrey Street - Edinburgh - EH1 1DH
This celebratory journey through Scottish choral music reveals a robust vernacular tradition running from early psalm settings to freshly-minted takes on traditional folksongs.
As Scotland's composers take the stage, Carver's effervescent Renaissance praise rubs elbows with Tom Cunningham's lyrical vision of Scotland at Night, James MacMillan's plangent Cantos Sagrados and the world premiere of Andrew Carvel's Summer Sun.
🎟️ £12 / £6 via ticketsource or at the door.
More information:
scottishchamberchoir.org.uk
John Mayall's 85th Anniversary Tour
📅
Sunday 3 November 2019
The Queen's Hall
For over 50 years, John Mayall has served as a pioneer of blues music, rightly earning him the title, 'The Godfather of British Blues' an OBE & a Hall of Fame induction.
John's early band John Mayall and The Bluesbreakers counted amongst its members Eric Clapton, Peter Green, John McVie & Mick Fleetwood (Fleetwood Mac), Andy Fraser (Free) Mick Taylor (The Stones) Still a prolific writer and performer, he has recently released the album 'Nobody Told Me' that also features Todd Rundgren & Joe Bonamassa.
Born in 1933 near Manchester, England from an early age John was a fan of Jazz and Blues, passionate about the Boogie Woogie piano giants, learning to play the piano, guitar and harmonica in his teens whilst at Manchester Junior School of Art. Sometime after National Service in the South Of England & Korea, John Moved to London in the swinging 60's where he formed The Bluesbreakers and provided backing for some of the Blues Greats such as John Lee Hooker, T Bone Walker, Eddie Boyd and Sonny Boy Williamson on their first English club tours.
Eric Clapton joined John & The Bluesbreakers after quitting The Yardbirds and they created the classic album 'John Mayall's Bluesbreakers featuring Eric Clapton'. Due to his increasing popularity Stateside, John moved to Laurel Canyon, LA in the early 70's and enjoyed a revered music career throughout the decades that followed. John has also collaborated over the years with the likes of Billy Gibbons (ZZ Top) Steve Miller, Gary Moore, Jeff Healey, Mavis Staples, Greg Rzab (Black Crowes) and many respected Blues musicians.
John's current live band are: John Mayall, Greg Rzab, Jay Davenport & Texas blues guitarist Carolyn Wonderland.